[ad_1]

Interview with Paul Pellizzari, Vice President of Global Social Responsibility for Hard Rock International by: Victor H. Royer
Casino Life magazine recently had the opportunity to interview Paul Pellizzari, Vice President of Global Social Responsibility for Hard Rock International, which is the first US-based gaming company to develop its own fully-immersive, branded casino-and-player interactive program for responsible gaming, called the PlayersEdge.
This program is intended to not only educate players about their own gaming decisions and choices, but to also educate the Hard Rock casino staff and managers on how to interact effectively with casino players on the topic of responsible gaming, including how to spot potential problems in players who may benefit from this educational program.
Starting with game facts and casino etiquette, PlayersEdge helps players understand their own behavior, identify risks of gambling, and develop positive play habits. For those whose gambling has gone too far, PlayersEdge offers the assistance of voluntary self-exclusion and referrals to professional help and counselling services. While many casino companies offer assistance with problem gaming, and usually offer not only instructional  programming on their in-house TV channels, and social media platforms, but also brochures and phone numbers where to access help, Hard Rock International seems to be the first US-based gaming company to use players' voices, consider the needs of all types of gamblers, and integrate this approach into the culture it wants for its employees . The goal appears to be to create an environment of mutual responsibility, in which both the casino – and the player – share jointly.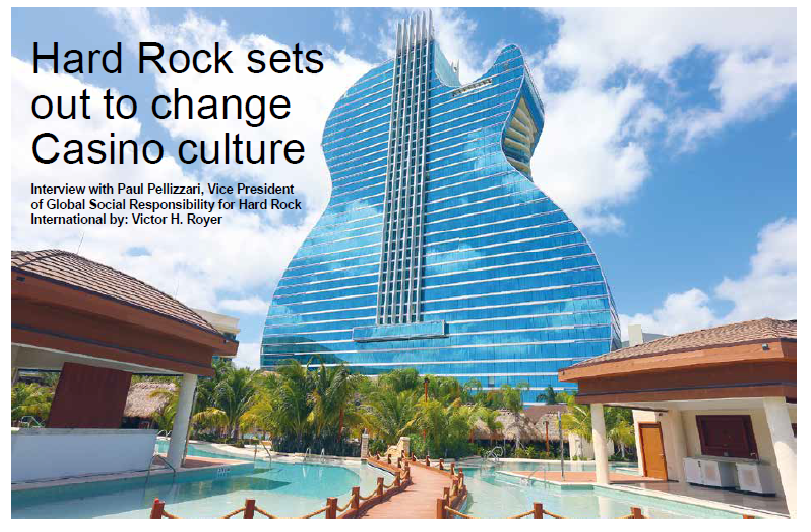 OK – so this sounds pretty good, so far. However, some older casino veterans, such as myself, are perhaps just a tad bit wary of this concept as a whole. Personally, after 36 years in the casinos of Las Vegas, and elsewhere in the USA, it seems to me that this is kind of taking the "political correctness" disease of today's world a bit too far. After all – isn't the idea of casinos supposed to be to keep the player playing? Or – is this kind of an old concept, like perhaps my own perspectives on the subject? Well, that's precisely why we are here to find this out directly from the man whose task it is to implement and promote this program: Paul Pellizzari, Vice President of Global Social Responsibility for Hard Rock International.
To read more please visit issue 135 Casino Life Magazine 
[ad_2]

Source link