[ad_1]

For those who may be new to the poker series, could you explain how it all works?
The Genting Poker Series is now in its eighth year and during that time there have been a huge number of changes to the format and structure of the tournament. In 2019 Genting UK will host 17 events over the course of the year in locations as far north as Edinburgh to as far south as Westcliff. This will include 13 Mini events and four Main events, which will be open to players of all abilities and no qualification is required.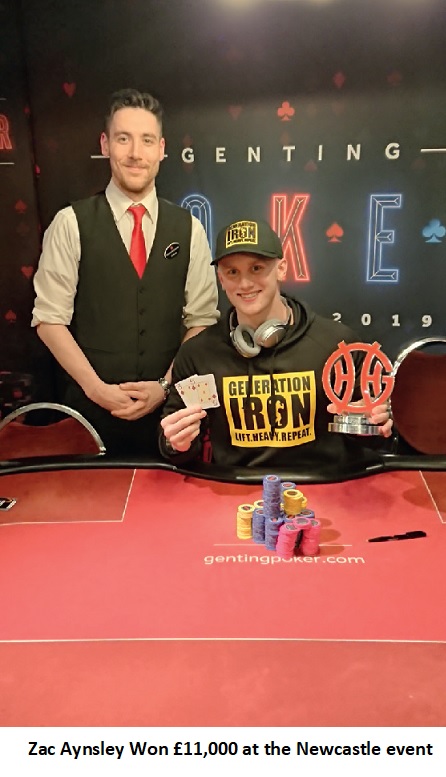 There is a guaranteed prize pool of £100,000 at each Main event. The Mini events, which will be returning to venues including Newcastle and Reading, will see players compete for a guaranteed prize pool of £35,000 and nine Genting Poker Series Main event seats.
In 2019 Mini events will have an entrance fee of £225 and the main events will have an entrance fee of £500. Each event has multiple Day 1's and if you survive the Day 1 with chips then you progress to Day 2, and in the case of the Main events there is the possibility of progressing to a Day 3.
What were the biggest highlights of 2018?
Some might say the biggest highlight was when a tournament smashed a guarantee. However, for me it was being able to give local players the opportunity to play an event that would normally be beyond their level of buy-in. It gives players the chance to experience the thrill of playing alongside professional poker players.
Is there anything you would have changed in 2018?
Overall, we felt like the 2018 series went well, but as with any event there are always aspects that can be improved on and internally, we have a team who analyse the tournament and discuss potential changes for the year ahead. Before the start of the 2018 tournament, lengthy discussions were held about whether to increase the entry level for the Main events and if it was worth introducing a Button Ante format. We decided against both changes for 2018 but looking back these are changes that we could have brought in at an earlier date.
Is there anything that will be different in 2019 to last year's poker series?
Yes, in 2019 there will be major changes to the Genting Poker Series, and all these changes are designed to enhance the players poker experience.
In response to player feedback, we have now introduced a Button Ante structure across all the Main and Mini events in 2019. When a Button Ante is used, the player on the button will pay the ante for the entire table which, as a result, speeds up the play for all involved. The Genting Poker Series is the only national UK poker tour to adopt the popular button ante format.
All the Main events will now have an additional Day one which will run on a 40-minute clock rather than the normal one-hour level. We will have four Day one's at each Main event. We have brought in these changes to help make the Main events much more accessible to people who are working and have limited free time.
As well as this, every player who enters a Main event will automatically be entered in to a fantastic free prize draw, with the chance to win a holiday worth £10,000 to Malaysia, Singapore, Manila, New York or Las Vegas, or the cash equivalent.
How many events are there this year and where will these events be held?
We have 17 events planned this year with four Main events and 13 Mini events. Venues for the Main events are at the old favourites of Edinburgh, Luton and Liverpool, with Resorts World in Birmingham hosting their second Main event this year.
Mini events are returning to Westcliff-on-Sea, Reading, Sheffield, Newcastle, Stoke, Glasgow. On top of this, all the Main event clubs, except for Edinburgh, are also hosting events. In addition, this year Blackpool is returning to the Genting Poker Series fold and is hosting a Mini event.
Can anyone enter these events, or do they have to have a certain amount of experience to enter?
Yes, all the events on the Genting Poker Series are open to players of any ability and they are a great way of getting into the game and meeting new people at the casino.
If you are relatively new to the poker circuit then my advice would be to start off with a Mini event, especially if it is your first major poker tournament. You can then work your way up to the Main events with a bigger buy in when you have more experience.
Do you expect the number of players to increase for this year or stay like last year?
In 2018 we had more than 4,500 entries into the series and people are again expected to travel from far and wide to try their luck at the poker table. We have already seen improved numbers for our first leg in Newcastle, which had its highest ever player numbers and I am really hopeful that player numbers will continue to increase in 2019.
Are the players mainly from the UK or do you get people coming in from all around the world?
We have had players travel from Europe to play these events, but the field is predominately made up of the UK market, many of whom travel from all around the country. We do also see lots of people from the local area entering the events.
What advice could you give new players?
The best advice I can give to people is to hone your skills in your local cardroom prior to playing in a Genting Poker series event. It is also important not to feel intimidated by the events. A live poker tournament is a great place to play poker and offers so much more in terms of atmosphere than playing online. Players can also learn a lot more about their game from playing live games in casino.
Do you get many players that come back each year?
Yes, we do have regulars who return each year to these events and it's always great to see these familiar faces at the events.
Which event is the most popular? Why?
I would say that the Mini events are more popular and that is because the slightly lower price point is more accessible to a larger player base. In terms of location, the Luton events are always very popular, and I think this is probably due to its proximity to London. We have also had some great successes in Liverpool and Edinburgh. That being said, all of the events have great turn out and a fantastic atmosphere.
In your opinion, what makes a good poker player?
That's a tricky question to answer, but I would say a sign of a good poker player is getting maximum value for their hands and being able to lay down big hands even when convinced that they are behind.
In one sentence, is there anything you would like to say to this year's players?
Come along and try the Genting Poker Series! We hope that you enjoy playing these events as much as we enjoy hosting them.
[ad_2]

Source link